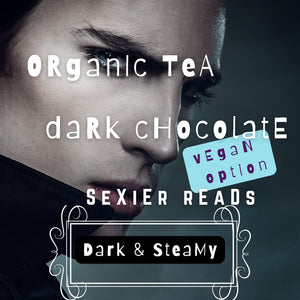 I'll go where you go no matter how dark the path.
Next box ships Mid-month order yours today!
Dark Romance. Dark Chocolate. Dark Tea.
Well Twisted Tales & Tea gives every book, chocolate & tea lover the opportunity to indulge in amazing dark or paranormal romantic reads, sweet treats and organic teas. If you love paranormal romance, romantic tension, conflict, pace, complications, the darkest hour where everything seems lost, a climactic battle and denouement, this is the subscription for you!
What's in the box?
Each month, members receive the finest chocolate, organic black tea, and dark & twisty fiction. There are no unwanted items in our box - we'd rather give you more chocolate or tea!
The Book
Genuinely dark & steamy* and sure to please any dark romance book lover.  Note: these books may include elements that might trigger some readers

The Tea
Genuinely organic and sure to taste beautiful to any loose leaf tea lover.  Carefully selected, each box contains loose, organic black tea for reading your twisty tale.  Additional loose, organic teas may be black, oolong, green, white, yellow, matcha, or herbal.

The Chocolate
Genuinely yum and sure to indulge your dark chocolate desires or choose the vegan option for tasty vegan treats!

*What is dark & steamy romance?
Depraved, addictive and gritty, dark and paranormal romances are bound to take you out of your comfort zone.
Order by the 19th of the month to receive the current month's box. Boxes ship via Canada Post and we share shipping costs with you!  We've set a flat rate per box for Expedited & Insured shipping by Canada Post to Canadian provinces by region.
Note: We only offer shipping to Canada provinces via Canada Post. Feel free to contact us with any questions!